About the Plan
FROM THE VICE-CHANCELLOR
The UWI's Strategic Plan for the period 2017-2022, emerges from an understanding of the role of the university within its national, regional and global environments…Deemed the Triple A Strategy, this plan rests upon three primary pillars: Access, Alignment, and Agility.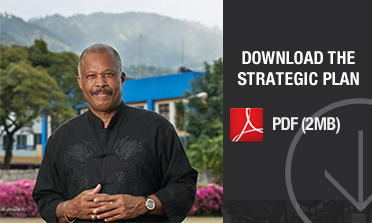 THE UWI TRIPLE A STRATEGY
The Triple A Strategy is grounded in the vision that The UWI needs to facilitate an access revolution in higher education in the Caribbean region given the low level of enrolment at the tertiary level, regionally and also among members of the Caribbean diaspora. Similarly, while access is critical, The UWI also sees the alignment with industry as an important element of its mandate, to help to strengthen the innovation capacity and capabilities of regional economies and lead to higher levels of growth. Further, while The UWI recognizes the anaemic growth of Caribbean economies, it sees potential opportunities in the international marketplace and as such, has to become more agile in order to take advantage of these opportunities. It is these three concepts (access, alignment, agility) which ground The UWI's strategic response to the challenges and opportunities in its operating environment.