Reach Up: An Early Childhood Parenting Programme
Project Overview
The Reach Up early childhood parenting programme was formally launched on Tuesday, September 29th 2015 in Washington, D.C with the support of Grand Challenges Canada, and hosted by the Inter-American Development Bank. In seeking to meet the global need for effective Early Childhood Parenting initiatives, CAIHR has taken its creativity to the world via their research-driven Parenting Package: Reach Up: An early childhood parenting programme.
The programme is informed by over 30 years research and aims to ensure that more children globally will be able to have home environments that provide the interaction and early stimulation essential for them to achieve their potential with proven benefits through to adulthood.
At the core of Reach Up's mandate is a strategic approach to help countries worldwide bridge the gap between those children who enter primary school with the necessary educational and social capabilities and those who do not. Already being implemented in several countries such as Bangladesh, India, Brazil, Madagascar and Peru, there are plans to implement in countries such as Guatemala, Zimbabwe and China.
A Global Approach to Parenting
The Jamaica Home Visit Programme on which Reach Up is modelled, introduced an approach delivered by community health workers, to improve children's development by showing parents simple ways of interacting with their young children using inexpensive homemade toys, books and conversation. A follow-up when the participants were aged 22 years demonstrated dramatic benefits later in the life of intervened children. It was discovered that these children: did better in school, were happier, and as adults had higher IQs, better mental health, demonstrated less violent behaviour and earned more money than similar children who did not benefit from the programme.
In keeping with its global approach to parenting, several aspects of the programme will become available in digital formats globally. In this way, the benefits derived under the programme will become more accessible to those who need it the most. The programme will therefore provide agencies with a comprehensive set of materials to support parents in providing a more stimulating environment for their children, improving quality interaction and facilitating learning.
The Reach Up Team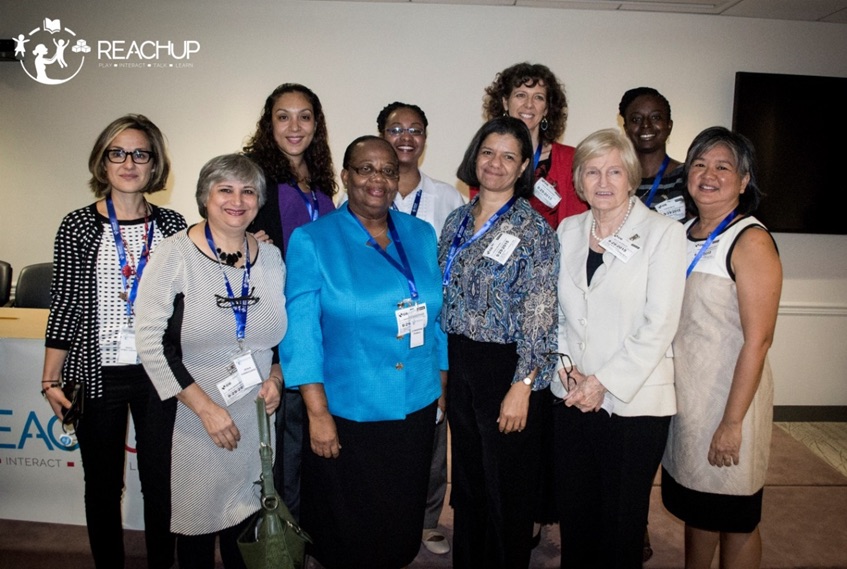 The Reach Up Team: (Front Left to Right) Marta Rubio-Codina, Jena Hamadani, Christine Powell, Susan Walker, Sally Grantham-McGregor, Susan Chang-Lopez (Back Left to Right) Kristy Fernandez, Amika Wright, Helen Baker-Henningham and Joanne Smith.