University of Valladolid Erasmus+ Scholarship 2022 Applications are Now Open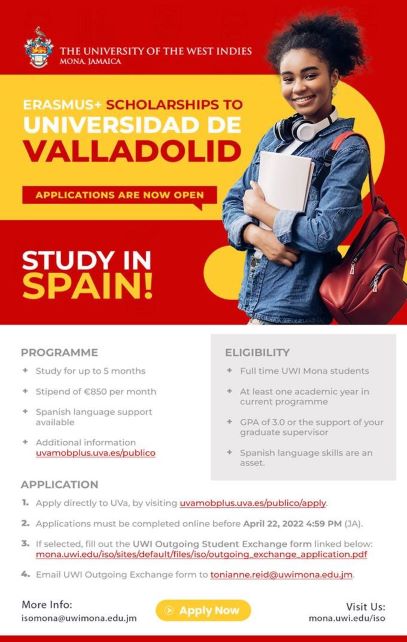 Applications are now open for the Erasmus+ Scholarship to the University of Valladolid (UVa) in Valladolid, Spain.
Programme Details:
- Study for up to 5 months
- Stipend of €850 per month
- Spanish language support available
- Additional information https://uvamobplus.uva.es/publico
Eligibility Requirements:
- Full time UWI Mona students
- At least one academic year in current programme
- GPA of 3.0 or the support of your graduate supervisor
- Spanish language skills are an asset.
Application:
- Apply directly to UVa, by visiting: https://uvamobplus.uva.es/publico/apply.
- Applications must be completed online before April 22, 2022 4:59 PM (JA) / (23:59 Spanish Time).
- If selected, fill out the UWI Outgoing Student Exchange form linked below: https://www.mona.uwi.edu/iso/sites/default/files/iso/outgoing_exchange_application.pdf.
- Email UWI Outgoing Exchange form to tonianne.reid@uwimona.edu.jm.
Student Affairs (Admissions and International Office)
The University of the West Indies
Mona Campus