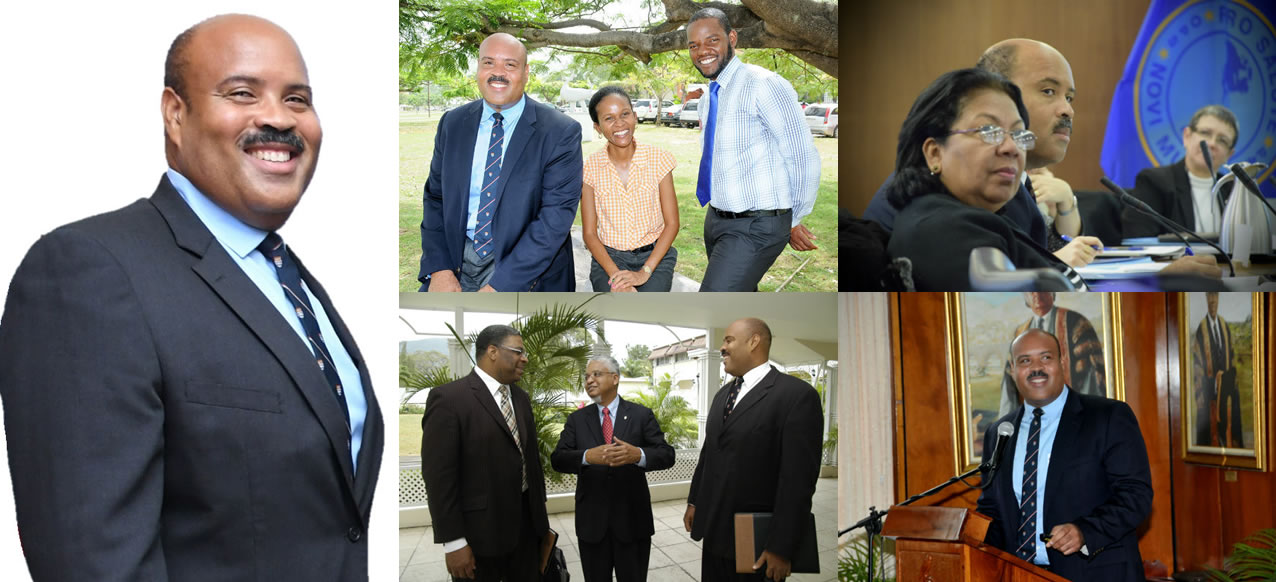 In keeping with its governance and succession planning framework, the directorship of CAIHR exchanged hands on August 1, 2020. Professor Susan Walker, Institute Director since 2012 relinquished the position to Prof Marshall Tulloch-Reid, former director of the Epidemiology Research Unit, one of the four research units of CAIHR.
Marshall Tulloch-Reid is a Professor of Epidemiology and Endocrinology, who was recruited from the National Institutes of Health (NIH) in 2003 to join the Epidemiology Research Unit of the then Tropical Medicine Research Institute. He was a graduate of The University of the West Indies (MBBS, 1994) with a Master of Philosophy (MPhil) Degree in Epidemiology from the University of Cambridge (1997) and the Doctor of Science in Epidemiology (DSc) from the Netherlands Institute for Health Sciences (2003). He became a Consultant Physician and Endocrinologist, having completed certification examinations by the American Board of Internal Medicine in Internal Medicine (2000) and also in Endocrinology, Diabetes and Metabolism (2002). He was made a Fellow of the American College of Endocrinology in 2005 and became the Director of the Epidemiology Research Unit, CAIHR in 2014.
Professor Tulloch-Reid has demonstrated effectiveness at obtaining grants and generating research funds. In this year alone he was successful in obtaining two grants, one of which is a 6 year NIH Prime Award project entitled "Implementing and Scaling Up a Team-based Care Strategy for Hypertension Control in Colombia and Jamaica', valued at $ ~6.0 M USD all years. He has published over 80 papers in peer reviewed journals in the areas of diabetes, obesity, cancer, cardiovascular disease, endocrinology, and survey methodology and has achieved recognition for his work. He received the Principal's Research Award for Research Project with the Greatest Multidisciplinary/Cross Faculty Collaboration in the Faculty of Medical Sciences (2014); for Best Publication, Faculty of Medical Sciences (2015), for Research Project with best Research Publication in the Faculty of Medical Sciences (2019) and Most Outstanding Researcher in the Faculty of Medical Sciences (2019), in recognition of the number of co-authored publications for the 2017/18 academic year. Since 2003 Professor Tulloch-Reid He received the Hon. Errol Morrison Award for Distinguished Research in Diabetes in 2018 and in 2019 he was honoured by the Association of Consultant Physicians Jamaica (ACPJ) Award for outstanding contribution to the teaching and practice of Endocrinology in Jamaica.
Professor Tulloch-Reid is committed to the training of the next generation of health professionals and has demonstrated excellence in the supervision of research graduate students. A Co-Founder of the CAIHR MSc Epidemiology programme, Professor Tulloch-Reid was its second coordinator (2010-2014) and since 2014 he has coordinated the MPhil/PhD Epidemiology Programme. He spearheaded the development of the Postgraduate Diploma in Health Research and Epidemiology, offered through the UWI Open Campus for the first time in 2020, to build regional research capacity by targeting persons who are unable to commit to full time research training at the UWI Mona Campus due to work and other commitments. Professor Tulloch-Reid helped to establish a branch of the Cochrane Network in CAIHR - Cochrane-Caribbean in 2013. The Cochrane Network is an international network of researchers committed to making the best evidence available to patients, practitioners and policy makers through research synthesis and dissemination. Outside of UWI Professor Tulloch-Reid has been involved in other training activities including the development of a training programme for Caribbean Health Professionals in Diabetes Education and helps oversee the only Caribbean-wide regional Certification Examination in Diabetes Education (CCDE). He is a highly sought after speaker for local and regional Training and Continuing Education Meetings for Health Professionals in the areas of Diabetes, Endocrinology and Epidemiology.