Suzanne Soares-Wynter, PhD
Clinical Nutritionist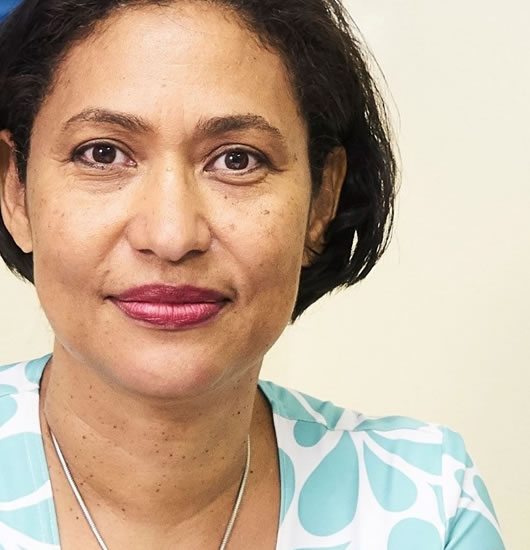 Suzanne Soares-Wynter is the Clinical Nutritionist at CAIHR. She is also a lecturer and the Course Coordinator for Human Nutrition in the Faculty of Medical Sciences Undergraduate Medical Degree (MBBS) programme. As a fellow graduate of the UWI, and the Institute's Nutrition program, she has worked within the Tropical Metabolism Research Unit since 2000. She has considerable expertise in assessing diets, body composition, and physical activity and oversees the training for staff using various instrument protocols.
Dr Soares-Wynter is the Principal Investigator for two multi-level studies focusing on the environmental influences on school nutrition. These aim to identify whether diets and physical activity are associated or predictive of obesity and chronic disease risk factors in school-age children. She is also looking at food and beverage nutrient profiles in relation to labeling of pre-packaged products. Both sets of data serve to inform the development and evaluation of national school nutrition and food labeling policies, in both Jamaica and Barbados. These studies are in collaboration with lead researchers in the Global Food Research Programme at the University of North Carolina at Chapel Hill, USA.
Suzanne continues to provide research and technical support to her advocacy partners at the Heart Foundation of Jamaica, the Heart and Stroke Foundation of Barbados, and the Global Health Advocacy Project. She provides consultation on nutrition matters to various local and international health bodies including the Ministries of Health in Jamaica and Barbados, the Pan American Health Organization (PAHO), and the International Atomic Energy Agency (IAEA).
Her areas of expertise are paediatric and adult weight management; sports nutrition; and, health promotion for chronic disease prevention. She is a member of several local and international associations for nutrition professionals.
Research Activity
Principal Investigator, Project entitled "Program and Policy Options for Preventing Obesity in the Low, Middle and Transitional Income Countries: background research and program evaluation" as part of the University of North Carolina at Chapel Hill Global Food Research Programme funded by Bloomberg Philanthropies.
Reviewer, Vital Strategies Healthy Food Policy 2020 Fellowship Award
Principal Investigator, Project entitled Determinants of injury and illness related to physical activity and obesity in active individuals.
Professional Activity
Jamaica Association of Professionals in Nutrition and Dietetics (JAPINAD) - Member
Academy of Nutrition and Dietetics (International Member)
International Affiliate of the American Academy of Nutrition and Dietetics (IAAND) – Member
Bureau of Standards Jamaica Limited (National Mirror Committee and Labeling and Technical Committee – Member)
Research and Advocacy Partners
Global Food Research Programme at the University of North Carolina at Chapel Hill
The Heart Foundation of Jamaica
Global Health Advocacy Project
The Heart and Stroke Foundation of Barbados
The Healthy Caribbean Coalition
Vital Strategies
Global Health Advocacy Incubator
Publications
Soares-Wynter, S.; Aiken-Hemming, S.-A.; Hollingsworth, B.; Miles, D.R.; Ng, S.W. Applying Nutrient Profiling Systems to Packaged Foods and Drinks Sold in Jamaica. Foods 2020, 9, 65; https://doi.org/10.3390/foods9010065
Contact
Telephone
(876) 927-1884
Email
suzanne.soareswynter@uwimona.edu.jm