Prof. Marshall Tulloch-Reid, MBBS, MPhil, DSc, FACE
Director, Caribbean Institute for Health Research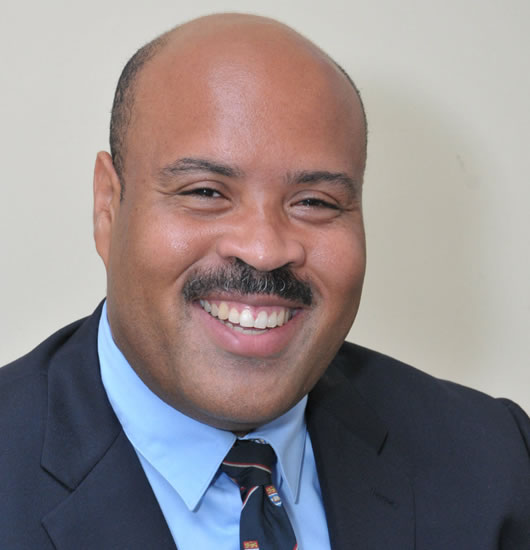 Marshall Tulloch-Reid is Professor of Epidemiology and Endocrinology and Director of CAIHR. He is also Co-Director of the Caribbean Branch of the US Cochrane Centre.
Professor Tulloch-Reid is a medically qualified Epidemiologist and Endocrinologist. Following medical school at the University of the West Indies (Mona) he went on to pursue the MPhil in Epidemiology at the University of Cambridge and the DSc in Epidemiology at the Netherlands Institute for Health Sciences. He completed training in Internal Medicine at the Howard University Hospital in Washington DC and Fellowship training in Endocrinology, Diabetes and Metabolism at the National Institutes of Health Inter Institute Endocrinology Training Programme (NIDDK) in Bethesda, Maryland and Phoenix, Arizona.
Professor Tulloch-Reid joined the then TMRI in 2003. He has served as coordinator for the MSc Epidemiology programme and is involved in the Jamaica Health and Lifestyle Surveys, the 1986 birth cohort, the Spanish Town Study and studies of youth onset diabetes. He is currently PI on two NIH grants involving designed to improve our understanding of cardiovascular disease and cancer by building regional capacity through a regional centre of excellence and a cohort created from the Jamaica Health and Lifestyle Study. His research interests include the identification of risk factors for chronic diseases throughout the life course and improving approaches for the prevention & treatment of these disorders.
Research & Teaching Interests
Diabetes – epidemiology, risk factors, disparities, detection and prevention and strategies to improve care, youth onset diabetes
Cardiovascular disease – hypertension, early life risk factors, prevention and implementation of proven preventative risk factors
Cancer – Prostate cancer, nutritional and metabolic risk factors, survival prognosis and metabolic abnormalities
Childhood Obesity – measurement, early life risk factors and prevention
Training Programmes
PhD Epidemiology (coordinator) & MSc Epidemiology, MSc. Nutrition, Postgraduate Diploma in Health Research and Epidemiology, Caribbean Certified Diabetes Educator (CCDE) Programme, MBBS - Understanding Research, DM (Internal Medicine)- Endocrinology.
Selected Publications
Tulloch-Reid MK, Saravia NG, Dennis RJ, Jaramillo A, Cuervo LG, Walker SP, Salicrup LA. Strengthening institutional capacity for equitable health research: lessons from Latin America and the Caribbean. BMJ. 2018 Jul 16;362:k2456. doi: 10.1136/bmj.k2456. PubMed PMID: 30012634; PubMed Central PMCID: PMC6046649.
Tulloch-Reid MK, McFarlane-Anderson N, Bennett FI, Aiken WD, Jackson MD. Effects of cholesterol, C-reactive protein, and interleukin-6 on prostate cancer risk in a population of African ancestry. Cancer Causes Control. 2017 Nov;28(11):1313-1321. doi: 10.1007/s10552-017-0945-4. Epub 2017 Sep 1. PubMed PMID: 28864928.
NCD Risk Factor Collaboration (NCD-RisC). Worldwide trends in body-mass index, underweight, overweight, and obesity from 1975 to 2016: a pooled analysis of 2416 population-based measurement studies in 128·9 million children, adolescents, and adults. Lancet. 2017 Dec 16;390(10113):2627-2642. doi:10.1016/S0140-6736(17)32129-3. Epub 2017 Oct 10. PubMed PMID: 29029897; PubMed Central PMCID: PMC5735219.
Tulloch-Reid MK, Younger NO, Ferguson TS, Francis DK, Abdulkadri AO, Gordon-Strachan GM, McFarlane SR, Cunningham-Myrie CA, Wilks RJ, Anderson SG. Excess Cardiovascular Risk Burden in Jamaican Women Does Not Influence Predicted 10-Year CVD Risk Profiles of Jamaica Adults: An Analysis of the 2007/08 Jamaica Health and Lifestyle Survey. PLoS One. 2013 Jun 21;8(6):e66625. doi: 10.1371/journal.pone.0066625. Print 2013. Review. PubMed PMID: 23805252; PubMed Central PMCID: PMC3689813.
Tulloch-Reid MK, Boyne MS, Smikle MF, Choo-Kang EG, Parkes RH, Wright-Pascoe RA, Barton EN, Wilks RJ, Williams DE. Clinical and laboratory features of youth onset type 2 diabetes in Jamaica. West Indian Med J. 2010 Mar;59(2):131-8. PubMed PMID: 21275116.
Saremi A, Nelson RG, Tulloch-Reid M, Hanson RL, Sievers ML, Taylor GW, Shlossman M, Bennett PH, Genco R, Knowler WC. Periodontal disease and mortality in type 2 diabetes. Diabetes Care. 2005 Jan;28(1):27-32. PubMed PMID: 15616229.
Tulloch-Reid MK, Williams DE, Looker HC, Hanson RL, Knowler WC. Do measures of body fat distribution provide information on the risk of type 2 diabetes in addition to measures of general obesity? Comparison of anthropometric predictors of type 2 diabetes in Pima Indians. Diabetes Care. 2003 Sep;26(9):2556-61. PubMed PMID: 12941718.
Contact
Telephone
(876) 927-2471
Email
marshall.tullochreid@uwimona.edu.jm