Dr. Susan Chang-Lopez
Senior Lecturer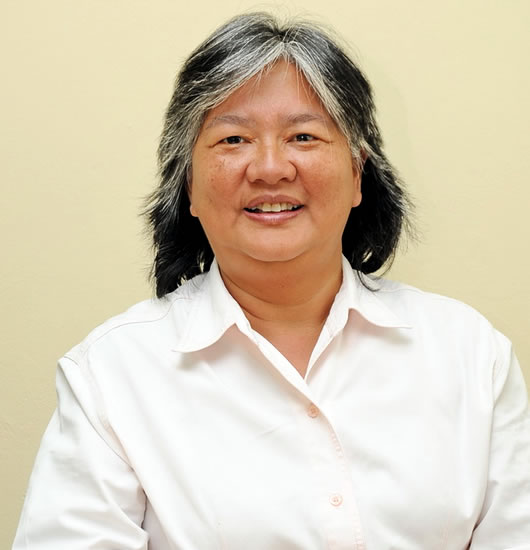 Susan Chang-Lopez is a Senior Lecturer in the Epidemiology Research Unit, Tropical Medicine Research Institute and a member of the Child Development Group.
Dr Chang-Lopez has a BSc in Psychology from the University of Toronto, Canada and a MPhil (Psychology) and PhD (Nutrition) from the University of the West Indies, Mona. She has extensive training in the administration of numerous developmental test instruments. She has also been trained in observation techniques of mother-child interactions and children's play behaviours from Purdue University, USA.
Her research activities are focussed on the impact of low-cost psychosocial interventions on the cognitive, academic and behavioural development of at-risk children. Dr. Chang-Lopez has extensive experience in the adaptation of psychometric tests and other instruments in Jamaica and other developing countries and is responsible for the training of research assistants and project staff to administer these tests. She has trained health care providers and lay persons from around the world in delivery of cost effective early childhood stimulation techniques.
Research & Teaching Interests
Dr Chang-Lopez has a strong interest in optimizing the development of vulnerable children at any stage in the life course to improve their lives.
Publications
Ann M Weber, Marta Rubio-Codina, Susan P Walker, Stef van Buuren, Iris Eekhout, Sally M Grantham-McGregor, Maria Caridad Araujo, Susan M Chang, Lia CH Fernald, Jena Derakhshani Hamadani, Charlotte Hanlon, Simone M Karam, Betsy Lozoff, Lisy Ratsifandrihamanana, Linda Richter, Maureen M Black, Global Child Development Group collaborators The D-score: a metric for interpreting the early development of infants and toddlers across global settings. BMJ Global Health 4:e001724. doi:10.1136/bmjgh-2019-001724, 2019
Abigail N. Harrison, Caryl C. B. James Bateman, Novie O. M. Younger-Coleman, Michelle C. Williams, Kern D. Rocke, Stephanie C. Clato-Day Scarlett, Susan M. Chang. Disordered eating behaviours and attitudes among adolescents in a middle-income country. Eating and Weight Disorders - Studies on Anorexia, Bulimia and Obesity, https://doi.org/10.1007/s40519-019-00814-5, 2019
Susan Chang-Lopez, Susan Walker, Sally Grantham-McGregor, Christine Powell. Parent Manual Activities for children up to age 3 years. Caribbean Institute for Health Research, UWI, Jamaica; Social Protection and Health Division Inter-American Development Bank, 2020 https://reachupandlearn.com/sites/default/files/Parent%20Manual_ReachUp%202020_0.pdf
Joanne A Smith, Susan M Chang, Florencia Lopez Boo, Maria de la Paz Ferro, Susan P Walker. Are benefits from a parenting intervention delivered through the health services sustainable? Follow-up of a randomized evaluation in Jamaica. Academic Pediatrics. DOI:https://doi.org/10.1016/j.acap.2021.01.003, 2021
Alexandra Brentani, Susan Walker, Susan Chang-Lopez, Sandra Grisi, Christine Powell, Gunther Fink. A home visit-based early childhood stimulation programme in Brazil-a randomised controlled trial. Health Policy and Planning. https://doi.org/10.1093/heapol/czaa195, 2021
Contact
Telephone
(876) 927-2471
Email
susan.changlopez@uwimona.edu.jm