Georgiana Gordon-Strachan
Director, Tropical Metabolism Research Unit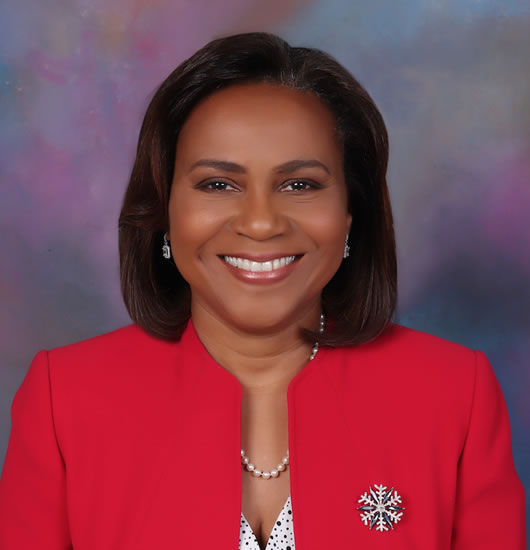 Dr Georgiana Gordon-Strachan is the Director of the Tropical Metabolism Research Unit (TMRU). She officially joined the staff of the Caribbean Institute for Health Research (CAIHR) in 2018 as a Senior Lecturer at the Sickle Cell Unit. Dr Gordon-Strachan specialises in epidemiology, health policy, health services research, research methods, and Biostatistics. She holds a PhD in Biochemistry (UWI), an MSc Health Policy Planning and Financing (University of London) and a BSc in Biochemistry and Zoology (UWI). She holds various postgraduate diplomas in Data Analysis, Epidemiology, and Public Policy and Health Economics from the Johns Hopkins University and University of Aberdeen, Scotland. She is the former Director of the Mona Office for Research and Innovation, University of the West Indies, Mona.
Dr Gordon-Strachan has worked on three National Health Surveys—two editions of the Jamaica Health and Lifestyle Survey and the Jamaica Youth Risk and Resiliency Behaviour Survey. They have all yielded data which directly informed national health policy. She has been a project consultant for the World Bank, UNICEF, Pan American Health Organisation (PAHO), United Nations Populations Fund (UNFPA), United Nations Economic Commission for Latin American and the Caribbean (UNECLAC) and regional governments including Jamaica, Belize and Trinidad and Tobago.
Dr Gordon-Strachan is a member of the Essential National Health Research Committee (ENHRC) Jamaica which has now developed a national research agenda and is working on a National Health Research Policy as a part of Jamaica's Vision 2030 strategy. She chairs the sub-committee on Health Systems Research for the COVID-19 National Research Agenda.
She serves as a board member of the Youth and Education Board of the Diocese of Jamaica and the Cayman Islands (Anglican Church) which oversees one tertiary institution (Church's Teacher College), 11 high schools, and 112 primary schools across Jamaica for which the Diocese has direct responsibility.
As an academic, Dr Gordon-Strachan has published 65 peer-reviewed journal articles; 41 abstracts from conferences and scientific papers; 15 technical and policy reports; presented at 12 academic conferences and has 6 articles in preparation or under review. Dr Gordon-Strachan has been awarded the Mona Campus Principal's Awards for Research with the greatest Business/Economic Development Impact (2018 and 2009) and Research Project attracting the most Research Funds (2008). She is the 2019 recipient of the Vice Chancellor's Award for Excellence in Research.
Publications
French S., Gordon-Strachan G., Kerr K., Bissasor-McKenzie J., Lambert-Innis D., Tanabe P. (accepted July1, 2020). Assessment of reliability and validity of the Emergency Severity Index (ESI) following implementation in Emergency Departments in Jamaica using a learning collaborative approach. Journal of Emergency Nursing.
French, S., Gordon-Strachan, G, Kerr, K., Bisasor-McKenzie, J., Innis, L., Tanabe, P. (2019) Implementing the Emergency Severity Index Triage System in Jamaican Accident and Emergency Departments. Journal of Emergency Nursing 45(2) 124-131. (Impact Factor 1.489)
Lutchmansingh, F., Hsu, J., Bennett, F., Badaloo, A., McFarlane-Anderson, N., Gordon-Strachan, G., Wright-Pascoe, R., Jahoor, F., Boyne, M. (2018) Glutathione metabolism in Type 2 diabetes and its relationship with microvascular complications and glycemia. PloS one 13(6). https://doi.org/10.1371/journal.pone.0198626 (Journal Impact Factor = 2.806)
Wilson, T., Williams-Johnson, J., Gossell-Williams, M., Goldberg, E., Wilks, R., Dasgupta, S., Gordon-Strachan, G., Williams, E., Levy, P. (2018) Elevated Blood Pressure and Illness Beliefs: A Cross-sectional Study of Emergency Department Patients in Jamaica. International Journal of Emergency Medicine 11(30). https://doi.org/10.1186/s12245-018-0187-6 (Journal Impact Factor =0.87)
Cunningham-Myrie, C., Mabile, E., Govia, I., Younger-Coleman, N., Tulloch-Reid, M., McFarlane, S., Francis, D., Gordon-Strachan, G., Wilks, R., Greene, L., Lyew-Ayee, P., Theall, K. Neighbourhood Context and Cumulative Biological Risk in a Developing Country: Evidence from the Jamaican Health and Lifestyle Survey 2008. BMJ Open 2018;8:e021952. doi: 10.1136/bmjopen-2018-021952 https://bmjopen.bmj.com/content/8/12/e021952.full (Journal Impact Factor =2.413)
Research Activity
Content is being developed.
Contact
Telephone
(876) 927-1884
Email
Georgiana.gordonstrachan@uwimona.edu.jm