Professor Monika Parshad-Asnani
Director, Sickle Cell Unit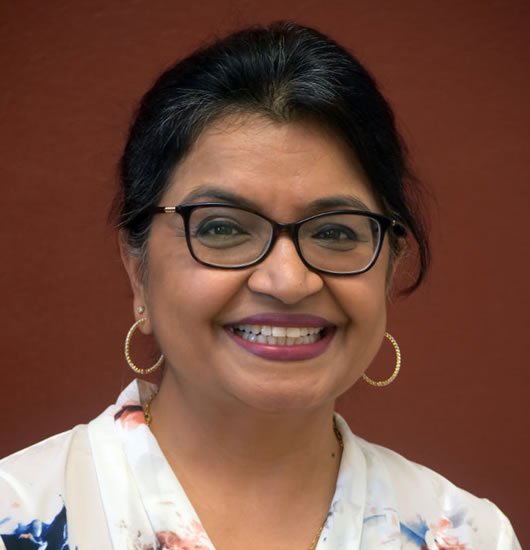 Monika Asnani is a Professor of Family Medicine and Epidemiology at the Caribbean Institute for Health Research's Sickle Cell Unit, The University of the West Indies (The UWI) in Jamaica. She joined CAIHR in 2003 and has over 17 years' experience of providing clinical care for persons with sickle cell disease (SCD). Her focus of research is (i) psychosocial outcomes and determinants in SCD and (ii) sickle nephropathy. Her work has advanced understanding of predictors of renal function decline in SCD and has sought to validate methods to determine presence of early sickle nephropathy. She has validated and tested various tools to examine quality of life in children, adolescents and adults with SCD in Jamaica. She is currently leading a project to assess the prevalence of neuropathic pain in SCD and is the local PI for the Gene Therapy in SCD project.
She is a graduate of the UWI and was awarded the M.B.B.S. degree in 1992. Her thesis work leading up the award of D.M. Family Medicine in 2006 examined the Quality of Life of Patients with Sickle Cell Disease (SCD). She completed in 2014 her PhD in Epidemiology with a focus on the Epidemiology of Sickle Nephropathy.
At the UWI, She is also a course tutor, examiner and member of Specialty Board in the Family Medicine Programme. She is a board member of the Cochrane Caribbean which is led by CAIHR. She holds a term graduate faculty appointment at Duke University Graduate School in the US. She has been an Academic Editor for Plos One journal since 2014. She is a member of the Caribbean College of Family Physician having served as its honorary secretary for a decade in the past. She also serves as a board member of the Caribbean Researchers in Sickle Cell Disease & Thalassaemia (CAREST) group.
Research & Teaching Interests
Psychosocial outcomes in Sickle Cell Disease: Quality of Life in adults, adolescents, and children, Depression, Stigma, Locus of control, Gender influences on health, adolescent health
Sickle Nephropathy: Screening and assessments for early nephropathy, longitudinal predictors of renal decline, early life predictors
Validation of measurement tools in Sickle Cell Disease: Quality of life assessments, assessing renal decline in sickle cell disease
Neuropathic pain in Sickle Cell Disease: examining prevalence, predictors, assessment
Physician-Patient Communication, Consultation skills
Training
Chair- Training Committee, CAIHR
CAIHR Representative: Campus Committee on Graduate Studies and Research
Family Medicine: Course Tutor- Consultation and Communication, Specialty Board Member
Postgraduate Supervisor: Msc Epidemiology, DM family Medicine, DM Paediatrics, DM Urology, PhD Advisor Nursing, MSc Global Health (Duke University)
Selected Publications
Niss O, Lane A, Asnani MR, Yee ME, Raj A, Creary S, Fitzhugh C, Bodas P, Saraf SL, Sarnaik S, Devarajan P, Malik P. Progression of Albuminuria in Patients With Sickle Cell Anemia: A Multicenter, Longitudinal Study. Blood Advances. 2020 Apr 14;4(7):1501-1511. doi: 10.1182/bloodadvances.2019001378.
Barton-Gooden A, Grindley M, Knight Madden J, Asnani M. Gender differences in knowledge and quality of life of adolescents with sickle cell disease. Psychology, Health & Medicine October 15, 2018. DOI: 10.1080/13548506.2018.1533985.
Blake A, Asnani V, Harris J, Leger R, Odesina V, Wagner L, Knight-Madden J, Asnani M. Stigma and Illness Uncertainty: Adding to the burden of Sickle Cell Disease. Hematology 2018, Vol. 23 (2): 122-130.
Asnani M, Knight Madden J, Reid M, Greene L, Lyew-Ayee P. Socio-environmental exposures and health outcomes among persons with sickle cell disease. Plos One. Published: April 6, 2017. https://doi.org/10.1371/journal.pone.0175260.
Bhatt-Poulose K, James K, Reid M, Harrison A, Asnani M. Increased rates of body dissatisfaction, depressive symptoms and suicide attempts in Jamaican teens with sickle cell disease. Pediatric Blood & Cancer. December 2016. Vol. 63 (12): 2159-2166. doi: 10.1002/pbc.26091. Epub: 9th July 2016.
Asnani M, Serjeant G, Royal-Thomas T, Reid M. Predictors of renal function progression in adults with homozygous sickle cell disease. British Journal of Haematology. 2016 May; 173(3):461-8. doi: 10.1111/bjh.13967. Epub 2016 Mar 27.
Contact
Telephone
(876) 927-2471
Email
monika.parshadasnani@uwimona.edu.jm