The Epidemiology Research Unit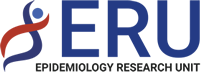 The Epidemiology Research Unit has quietly built up a significant body of research through the work and accomplishments of its Child Development Research Group and Chronic Diseases Group.
Ground breaking research like the '30 Year Child Development/Jamaica Home Visiting' and 'Reach Up' Projects have won international acclaim and are global best practices. Exciting new projects like the 'Irie Classroom' Project for basic school teachers and the 3-year 'Places of Worship' Study in Jamaica, Guyana and Dominica, are testament to the Institute's commitment to pushing the envelope of research innovation.
ERU's contribution in providing current data on prevalence and risk factors for Chronic Disease by producing National health and lifestyle Surveys over the past decade, has been of tremendous value to Jamaica, informing policy towards control of the NCD epidemic.
A major initiative for CAIHR has been the launch of the Regional Centre for Research Excellence in Cardiometabolic Disease and Cancer on February 8, 2018, in collaboration with the UWI Department of Community Health and Psychiatry and international partners the Fox Chase Cancer Center and the National Institutes of Health.
This achievement promises to have a profound impact on research and interventions in chronic diseases and cancers affecting populations across the Caribbean.