Celebrating Twenty Years of Global Impact
CAIHR, a specialised centre and regional entity of the University of the West Indies, is mandated to deliver health care research and interventions of global relevance for a healthier Caribbean. CAIHR is the premier health research Institute in the Caribbean, conducing seminal research in Nutrition, Child Development, Non-communicable Diseases (including Sickle Cell Disease) and Public Health Policy and Interventions. Respected, resource-rich in knowledge, scientific and technical competence, CAIHR at 20 is a Caribbean-based centre of excellence with a global outlook; pushing the boundaries of health research for a sustainable future for the peoples of the Caribbean for the next 20 years and beyond!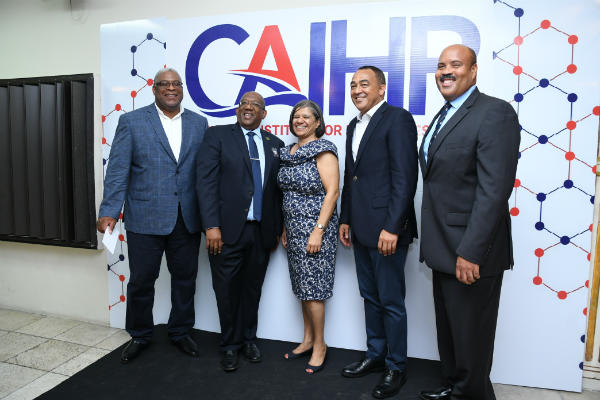 CAIHR celebrated its existence and impact with the staging of the CAIHR at 20 Symposium, held September 18 and 19, 2019.
The achievements of the Institute and its component units were highlighted – with special emphasis on the work that has been done by the Tropical Metabolism Research Unit in understanding and addressing severe acute childhood malnutrition and its effects in Jamaica. The aim of the symposium was to develop a research agenda that can address the region's current nutrition and chronic disease challenges.
CAIHR brought together a cadre of regional and international experts in non-communicable chronic disease research as well as other distinguished persons, including:
Mr. Dunstan Bryan, Permanent Secretary, Ministry of Health and Wellness;
Professor Dale Webber, Principal, UWI Mona;
Dr Tomlin Paul, Dean, Faculty of Medical Sciences, The UWI
Professor Emeritus David Picou, former Director of TMRU,
Sir George Alleyne, former Chancellor, UWI
Professor Emeritus Ann Ashworth-Hill, London School of Hygiene and Tropical Medicine UK
Professor Emeritus Michael Golden, University of Aberdeen UK
Dr Nigel Rollins, Scientist, World Health Organization
Professor Emeritus Alan Jackson, University of Southampton
Dr Rebecca Tortello, Education Specialist, UNICEF Jamaica
Professor Minerva Thame, UWI
Professor Kennedy Cruickshank, King's College, St Thomas' & Guy's Hospitals, London
Dr Shelly Hall, Baylor University Medical Center, USA
Dr Jashvant Poeran, Director, Center for Clinical and Outcomes Research, Mount Sinai
Dr Gunjan Mansingh, Department of Computing, The UWI
Professor Maria Jackson, Department of Community Health & Psychiatry, UWI
Dr Dingle Spence
Dr Dan Ramdath, Guelph Food Research Centre, Agriculture and Agri-Food Canada
Dr Althea Bailey, Department of Community Health and Psychiatry, UWI
Dr Steve Wootton, University of Southampton
Professor Donald Simeon, Caribbean Centre for Health Systems Research and Development, UWI
Celebratory Reception
The celebratory reception was hosted by Professor Dale Webber, CD, Pro Vice-Chancellor and Principal of The UWI Mona Campus and was held at the Mona Visitor's Lodge and Conference Centre. The Honorable Dr Christopher Tufton brought remarks and received an award on behalf of the Ministry of Health and Wellness, in recognition of consistent collaboration and partnership with the Caribbean Institute for Health Research for the improvement of health in Jamaica.
Other CAIHR awardees were Professor Emeritus David Picou; paediatrician, scientist, and leader, in recognition of leadership of the Tropical Metabolism Research Unit and lifetime contributions to health research in the Caribbean; and Mrs June Harris in recognition of outstanding service to the Sickle Cell Unit-CAIHR The Keynote Speaker was Professor Terrence Forrester, founding director of the Tropical Medicine Research Institute, CAIHR's predecessor.
Congratulatory Messages were received from Professor Barry M. Popkin, the W. R. Kenan Jr. Distinguished Professor of Nutrition at the University of North Carolina at Chapel Hill School of Public Health; Dr Camille Ragin, associate Professor in the Cancer Prevention and Control Program at Fox Chase Cancer Center and Dr John Shepherd Professor in Epidemiology and Population Science and head of the Artificial Intelligence Precision Health Institute at the University of Hawaii Cancer Center.
Travel Bursaries
CAIHR, in partnership with the Wellcome Trust UK issued travel bursaries to five young career researchers across the region to attend the Symposium.
Professor Stephan Gift, Pro Vice-Chancellor for Graduate Studies and Research, UWI sponsored two researchers, one each from Cave Hill and St Augustine, to attend the symposium
Museum
The UWI Museum presented a feature "Reflections on Innovation: The TMRU Story" as a first event in the Innovators and Inventors Series of the Museum, which showcases, collects (through objects) and records the world of scholars and activists who have shaped the research agenda and output of the UWI.