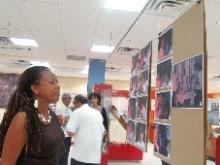 One prized possession of the UWI Museum is a digital copy of a 1953 film on the University College of the West Indies. While it's images are important for recording the original landscape of the founding campus in its early years, it also follows the early students and lecturers as they interact with that landscape and those facilities. In an effort to capture information on those persons, many decades later, the UWI Museum mounted screenshots of the film as an exhibition titled 'Freeze Frame & Annotate' – inviting visitors to do something normally unheard of: leave their mark on the displays!
The exhibition included more than 100 images deemed clear enough to identify and the exhibition was mounted close to the film for ease of reference and enhanced context. Some suggestion of who the pictured persons were and sometimes what they went on to do, was left on more than two-third of the images.
This is important as the trajectory of the early students was major evidence of the fulfillment of the University's early mission of regional development.
The film, which went through a number of adventures - and the original reel of which has not been located - also stands as an early (if not the earliest) colour film in the Caribbean region.