CQ Volume 65, No. 1 (March 2019)
Submitted by

CQeditor

on Wed, 12/02/2020 - 14:19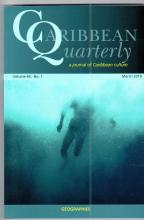 CONTENTS
EDITOR'S NOTE    /    viii
ARTIST'S VOICE
Circa no future    /    1
              NADIA HUGGINS
FEATURE ARTICLES
'Prime Time' Geographies: Dancehall Performance, Visual Communication and the Philosophy of 'Boundarylessness'   /    5
               SONJAH STANLEY NIAAH
Norman & Dawbarn, the UCWI, and Tropical Modernist Architecture in Jamaica    /   27  
     SUZANNE FRANCIS-BROWN AD PETER FRANCIS
Building Belmopan: Establishing a Capital for an Independent Belize    /     57
               SHANNON RICKETTS
Albert Helman: Between Erudition and 'Primitivity': The Odyssey of a Europeanised Surinamese    /    73
                JOHANNA W. VISÉE
Challenging the Negative Image of Postcolonial, Post-conflict and Post-disaster Destinations Using Events: The Case of Haiti
                HUGUES SÉRAPHIN, MUSTAFED ZAMAN AND ANESTIS FOTIADIS
To view the abstracts for this issue, click here.
PERSONAL ESSAY
A Geographer in Planning; a Planner in Geography    /    113
                BRIAN HUDSON
TRIBUTE
Professor David Lowenthal (1923–2018): A Geographer Par Excellence    /    123
                ELIZABETH THOMAS-HOPE
INTERVIEW
Remembering Quisqueya: A Discussion of Évelyne Trouillot's Memory at Bay with Translator Paul Curtis Daw    /    126
                SIOBHAN MARIE MEÏ
PERSONAL ESSAY
The Wedding Picture    /    142
                ANDREW J. SKERRITT
STORY
                A-DZIKO SIMBA GEGELE
POEM
The Drake's Pub's Wall    /   158
                SOPHIE MARÍÑEZ
BOOK REVIEWS
Maryse Condé, The Journey of a Caribbean Writer, trans. Richard Philcox    /    161
                REVIEWED BY KEILAH MILLS
Paget Henry, Journeys in Caribbean Thought: The Paget Henry Reader, ed. Jane Anna Gordon, Lewis R. Gordon, Aaron Kamugisha, and Neil Roberts    /    166
                REVIEWED BY F.S.J. LEDGISTER
Persephone Braham, ed., African Diaspora in the Cultures of Latin America, the Caribbean, and the United States    /    169
                 REVIEWED BY ALISON McLETCHIE
Paul C. Mocombe, Carol Tomlin, and Christine Challender, The African-Americanization of the Black Diaspora in Globalizatio
or the Contemporary Capitalist     /    172
                REVIEWED BY FREDDY MARCIN
Anthony P. Maingot, Race, Ideology, and the Decline of Caribbean Marxism    /    175
                REVIEWED BY SCOTT TIMCKE
Hilary McD. Beckles, The First Black Slave Society: Britain's "Barbarity Time" in Barbados, 1636–1876    /    178
                REVIEWED BY JESSE CAVALARI
Anthony Kellman, Tracing Jaja     /    175
               REVIEWED BY BRIDGET BRERETON
Karen Lord, ed., New Worlds, Old Ways: Speculative Tales from the Caribbean   /    183                                
               REVIEWED BY SOLANGE ANDUZE JAMES
Nicole Dennis-Benn, Here Comes the Sun     /    187
               REVIEWED BY DADLAND MAYE
Mervyn Morris, Peelin Orange: Collected Poems    /    190
                REVIEWED BY ST HOPE EARL McKENZIE
To view the list of books for review, click here.
Notes on contributors    /    194
Books for Review    /    197 
Submission Guidelines    /    201