UWI Mona Moves
Thursday, September 29, 2022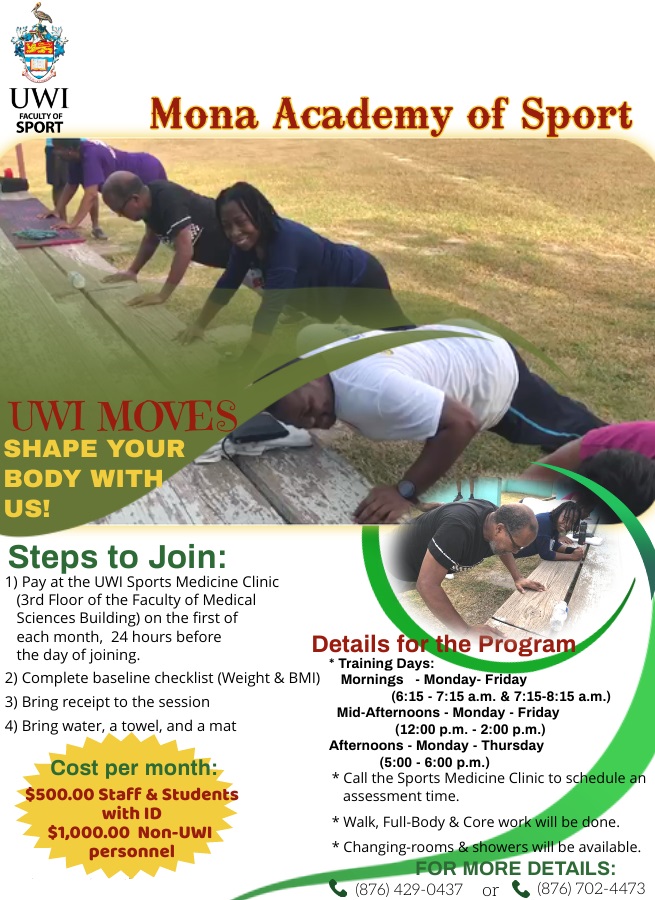 Steps to joining the program:
Visit the Sports Medicine Clinic on the 3rd floor of the Faculty of Medical Sciences building
• Make Payment 24 hours before the day of joining
$500 - Staff & Students with ID
$1,000 - non-UWI personnel
• Get Baseline testing done (BMI, weight)
• Bring receipt to the session
Details for the program:
1. Start date: Monday July 13th
2. Training Slots:
a. Mornings: Monday -  Friday: 6:15 AM – 7:15 AM & 7:15 AM - 8:15AM
b. Mid-Afternoons: Monday - Friday  12:00 PM - 2:00 PM
c. Afternoons: Monday - Thursday  5:00 PM – 6:00 PM
3. Walking, full body & core work will be done
4. Changing room & showers will be available
Bring water, a towel and a mat
If you have issues or concerns, please visit us at the ADT office or visit the Sports Medicine Clinic.
It is always best to consult your family physician before commencing an exercise programme.
We look forward to a better, healthier you!
Contact us at:
Email: sports@uwimona.edu.jm                                  Phone: (876) 429-0437 or (876) 702-4473