Sharon Estwick, Administrative Assistant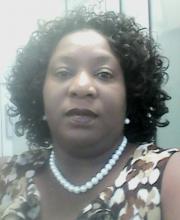 Ms. Sharon Estwick is an Administrative Assistant in the Office of Global Affairs (OGA), based in Barbados. One of her primary responsibilities is the regular updating of the UWI's agreement repository.  Prior to being assigned to the OGA, she was Administrative Assistant in CORIA since that unit's inception in 2012, where she assisted in the production of CORIA News, a newsletter that appeared twice yearly.
She previously served as Stenographer/Clerk, Secretary and acting Administrative Assistant in the now defunct Tertiary Level Institutions Unit (TLIU) and the Office of External Relations, Inter- and Intra-Institutional Collaboration (ERIIC). Her duties included assisting with the day-to-day management of the office; institutional accreditation, programme articulation, course equivalencies and student transfer arrangements with regard to associate degrees, diplomas and certificates; encouraging inter-institutional collaboration among public and private institutions including partnership arrangements, franchising and joint programme delivery. 
In 1996, Ms. Estwick served as Stenographer/Clerk to the Caribbean Lexicography Project where she assisted the Fellow Researcher, the late Professor Richard Allsopp, with administrative duties including the preparation of an addendum to the Dictionary of Caribbean English Usage. 
Two of her key achievements include serving as keyboarder for the text, A Book of African Caribbean Proverbs by Professor Allsopp, which was published in 2004 and the TLIU book, Human Resource Needs and the Tertiary Education Sector Response in the Caribbean, published in 2009 by Ian Randle Publishers. 
In 2000 and 2002 respectively, Ms. Estwick completed the Administrative Professional Secretaries' Certificate with credit and the Administrative Corporate Secretaries' Certificate with distinction at the UWI School of Continuing Studies. She also holds a bachelor's degree in Social Sciences (The UWI).