Ian Forrest, Programme Officer II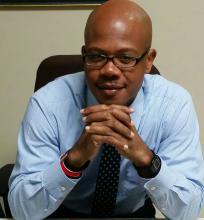 Mr. Ian Forrest, holds a Bachelors in Management Studies (UWI, 1995) and a Masters in International Business (UWI, 2001). He was awarded a Bachelor of Laws in 2014 from the Cave Hill Campus of the UWI. In 2016, he graduated the Norman Manley Law School, where he received his Legal Education Certificate. He was called to the Jamaican Bar in 2016 and is a member of the Jamaican Bar Association.
He joined the Regional Headquarters of The UWI in December 2016, first in the Legal Unit, working under the direction of University Counsel, Mrs. Laleta Davis Mattis. In April 2017, he joined the Office of Global Affairs where he has been ever since, working under the direction of Pro-Vice Chancellor, Ambassador Dr. Richard Bernal
He brings to his post extensive working experience in Jamaica, the Caribbean and New York City (NYC). Internationally, he has reported for the Pacifica Radio Network via Free Speech Radio News (USA), the WBAI Evening News (NY Tri-State), and the BBC Caribbean Service. He has hosted, produced and engineered his signature radio work, "Connections" aired over WBAI FM 99.5 (NY Tri-state), from Jamaica, Trinidad and Tobago, Barbados, Jamaica, various parts of the USA and Kenya.
While in NY Mr. Forrest served as Founder/Host of the public discussion group, Caribbean Dialogue. In partnership with the Brooklyn Public Library, he served as Curator of the Caribbean Dialogue Series, presenting more than 20 monthly discussions on issues central to the Caribbean Diaspora at the main branch of the library.
He has also served as a NYC Public School teacher.
For his community service work in NY, Mr. Forrest has been awarded a Borough of Brooklyn Citation for Community Service. He has also received a Community Health Education Award from the Caribbean American Medical and Scientific Association.
An archive of his radio work can be found at www.yourlisten.com/connections.