Dr. Stacy Richards-Kennedy, Pro Vice-Chancellor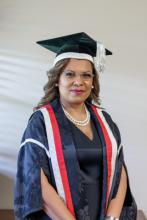 Dr. Stacy Richards-Kennedy is the Pro Vice-Chancellor for Global Affairs at The University of the West Indies (The UWI).  She leads the regional university's global engagement activities and through the Office of Global Affairs, coordinates internationalization and strategic global initiatives across The UWI system.
Dr. Richards-Kennedy has over 20 years' experience in multilateral negotiations, development management and international finance.  Prior to joining The UWI, Dr. Richards-Kennedy served as Assistant Resident Representative of the United Nations Development Programme (UNDP) for Trinidad and Tobago, Aruba, Curaçao and St Maarten; Chief Technical Advisor, Inter-American Development Bank (IDB); Consultant, The World Bank and Programme Specialist, UNESCO.  
Since 2016, Dr. Richards-Kennedy held the portfolio of Director of the University Office of Global Partnerships and Sustainable Futures (OGPSF) at The UWI and played a pivotal role in deepening The UWI's collaborations with multilateral development partners, international foundations, and university consortia.  In addition to spearheading the mobilization of significant funding for The UWI, Dr. Richards-Kennedy has successfully led several flagship initiatives that have helped to bolster The UWI's global positioning as an SDG-engaged university, including the establishment of the Global University Consortium on SDG-13, the Leading Climate Action Special Report, BBC Story Works Film on UWI Tackling the Effects of Climate Change and the Global Institute for Climate-Smart and Resilient Development (GICSRD).  In 2021, The Times Higher Education Impact Rankings placed The UWI among the top 2.5% of international universities working on advancing the 2030 sustainable development agenda.  Dr. Richards-Kennedy co-chairs the International Steering Committee for the Centre of Excellence for Oceanography and the Blue Economy at The UWI Five Islands Campus and is a founding member of the Board of the SUNY-UWI Center for Leadership and Sustainable Development in New York.   
A national of Trinidad and Tobago, Dr. Richards-Kennedy is fluent in Spanish, French and English.  She holds a Doctorate in Education from The University of Sheffield, a MSc in Development Management from American University (Washington DC), a MBA specializing in International Finance from American University (Washington DC) as well as a Postgraduate Diploma (International Relations) and Bachelor of Arts in Foreign Languages, both from The University of the West Indies (St. Augustine, Trinidad).  Her research interests include the development impact of university research, knowledge brokerage and development effectiveness.