Christine Marrett (Ph.D), Senior Programme Officer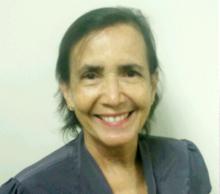 Dr. Christine Marrett, Senior Programme Officer, was redeployed to the OGA in July 2016 from the former Central Office for Regional and International Affairs (CORIA)  where she held a similar post from its inception in 2012. Prior to her post in CORIA, she served in the former Office of External Relations, Inter- and Intra-institutional Collaboration, where she was responsible for Jamaica and the Northern Caribbean from January 2010. Previous to that assignment, she worked in distance education at The UWI from 1982 with the UWI Distance Teaching Experiment, which evolved into the UWI Distance Teaching Enterprise, then the UWI Distance Education Centre, before being amalgamated with the School of Continuing Studies to form the UWI Open Campus in 2008. 
Dr. Marrett holds a bachelor's degree in Spanish and German (The UWI), a diploma in Mass Communication (The UWI), a translator's certificate (Language Training Centre), a diploma in Management Studies (The UWI), a diploma in the Practice of Higher Education (Surrey), a master's degree in Public Sector Management (The UWI), and a doctorate in Social Policy (The UWI).